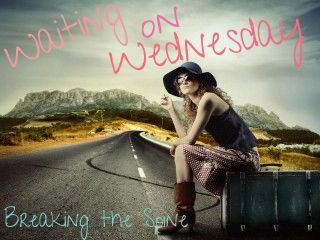 Waiting on Wednesday is a weekly meme hosted by Jill at Breaking the Spine.
Each week you talk about a book that you can't wait for.
You give the title, author, synopsis, and why you can't wait for it!
My WoW this week is:
Oblivion


by Jennifer L. Armentrout
Published by Hodder & Stoughton on December 3rd 2015
Genres: Paranormal, Young Adult
Pages: 400
Amazon
Goodreads

The hotly-anticipated follow-up to New York Times bestselling author Jennifer L. Armentrout's megaselling Lux series, written from the point of view of Daemon Black.

This is Daemon Black as you've never seen him before...

Re-live the thrilling, pulse-pounding action and epic romance of Daemon and Katy's story all over again. This time, Daemon's telling the story - and he isn't holding back...
Hey everyone! It's been so long and I thought, what kind of post would be better to get me back into blogging and into the reading world than a WoW?! Not only do I get to talk endlessly about something I'm excited about, but it gets me even more excited for a book's release! So, without further ado…..
I….I just. I don't know if I even have the words to explain to you how utterly excited I am for this book to release. This is my all time favorite series, and I am in complete and total fictional love with Daemon Black. Come on Katie. Contain yourself. This isn't Swoon Thursday.
Okay. So. Oblivion. While us readers impatiently awaiting the arrival of this book don't actually know exactly the events that are going to take place or where exactly in the series this falls, we do know, thanks to a teaser posted by the lovely Jennifer Armentrout, that we are going to see one of the most pivotal scenes from the first book (a.k.a the lake scene!) and maybe even that certain note that we all are absolutely DYING to read?! (please Jennifer. For the love of HOLY ALIEN BABIES! Please put it in the book!)
If you haven't read the Lux series yet, I suggest that you do. Yes, you will ate Daemon Black through most of the first book. I could NOT stand him the first book. I wanted to absolutely strangle him. But, by the end of the first book, you will most likely be swooning just as much as I am. But if not, that's fine. More for me 😉
Thanks for visiting my blog and hopefully you'll join me in this reboot of my blog and continue with me as I regrow my love for reading and sharing! I mean, who better to do so than the book blogging community right?